Last week, the US agreed to terms with China that would allow US beef to once again be exported into the China consumer market by July 16th.  While the deal is still relatively new and there are many questions about it, it is something that comes up in every outreach talk that I've recently given.  This post will focus on the things that we know and don't know at this point.
What we know:
As with all trade agreements, this has been a long time in the works.  
After the discovery of bovine spongiform encephalopathy (BSE) in December 2003, China, along with other major beef export destinations including S. Korea and Japan, shut down beef trade with the US.  While both S. Korea and Japan have now exceeded pre-BSE levels of beef trade with the US, China has remained on the sidelines.  Montana has played a particularly large role in re-opening trade relations with China with the 2014 trade delegation, lead by Governor Bullock, as well as a more recent visit by Sen. Daines (R-MT).  In fact, the former Secretary of Agriculture, Vilsak, announced in September 2016 that China was willing to reopen it's borders to US Beef.
China is the largest importer of beef (excluding the US).
According to the Foreign Agricultural Service, in 2016, China imported 812 Million Metric Tons of Beef.  This is second only the the United States (1,368 MMTs) and larger than our biggest trading partners Japan (719 MMTs) and S. Korea (513MMTs).  The large China import volume is particularly notable given its total imports were less than 100 MMTs prior to 2013. Given the current size and growth in China beef consumption, this market provides a lucrative market for the US.  Per capita consumption of beef in China is notably strong, as it has grown by an average of 3.5% per year over the last 6 years.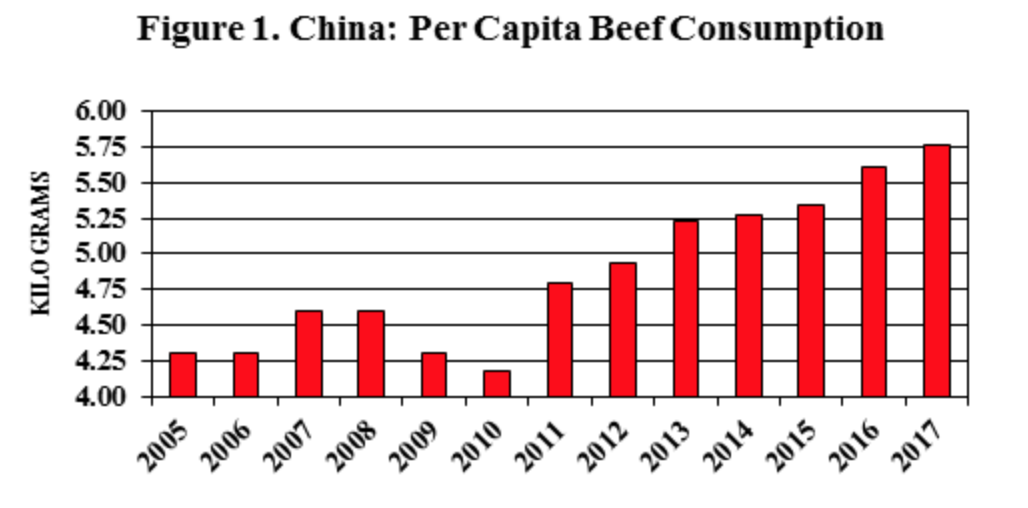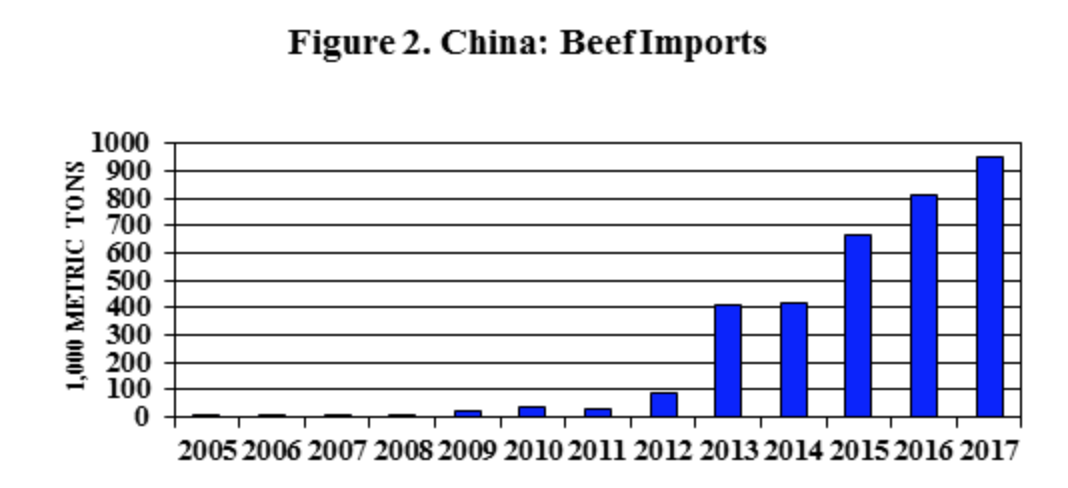 Other beef producing countries are already selling into China.
The competition for the China beef consumer market is likely to be fierce.  In 2016, the top countries selling into China include Brazil (29%), Uruguay (27%), and Australia (19%).  Beef coming from South America has quickly grown into the China market.  A strong U.S. dollar is likely to limit immediate trade into China, though with a weakening of the US Dollar may help future growth from the US.  Strong production growth in Brazil and a weak Australia Dollar may also slow initial growth from the US into the China market.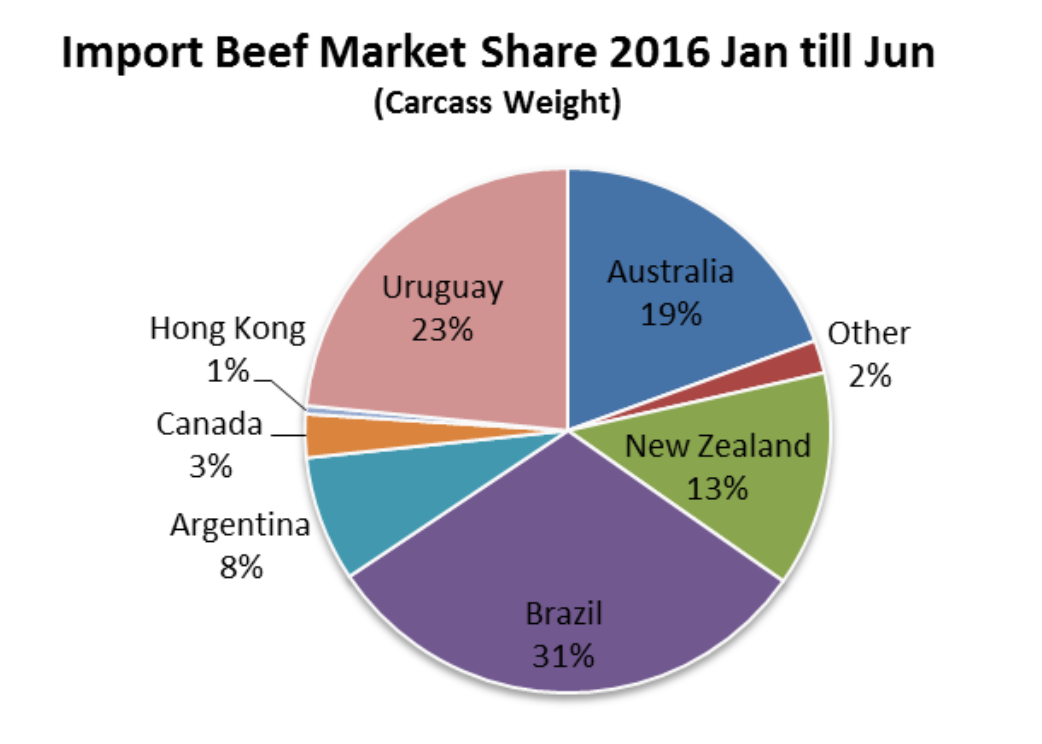 What we don't know:
How much beef will the US export to China?
It's tempting to compare trade to trade with China to that of S. Korea and Japan.  However, incomes per capita in China are closer to Mexico than our other trading partners.  For this reason, trade with China will likely not look like S. Korea and Japan.  This leads to a question regarding how competitive the US will be compared to our other trading partners.  Competing with Australia and Brazil in the hamburger market is likely to be difficult for the US (especially with an unfavorable exchange rate), while the US would be more competitive competing in the primal cut market.
Animal ID and Traceability issues?
China currently requires source and age verification for beef from the US.  Given that the US does not have a mandatory ID system put in place, China will likely need to access the voluntary system currently in the US.  It will also be interesting to see if China places any additional restrictions on US beef products, such as GMO-free and/or hormone-free.
Given these unknowns, US beef producers should remain optimistic about this trade deal.  This deal is, without a doubt, a win for beef producers.  However, it's still unclear to me just what trade with China will look like as it develops over the next year.  That being said, it is a large market for beef that the US needs to participate in.  Stay tuned.