This year, we partnered once again with Montana Wheat and Barley Committee and the USDA NASS Montana Field Office to add several economic questions to the annual wheat and barley variety survey.
Since the 2021 survey, sentiment about current and future profitability has fallen. Roughly 42 percent (the largest group of respondents) expected their profitability to decline over the coming year, compared with 25% in 2021. 40% expected profits to stay the same, and 18% expected improvement.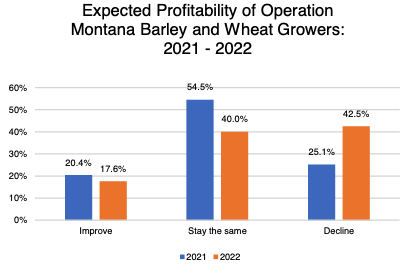 We also saw a large increase in producers reporting that they are financially worse off now than they were one year ago—36% reported their financial conditions had declined since 2021, versus 19% who reported their financial conditions had declined from 2020-2021. The largest group, however, reported their financial condition to be "about the same" as the year prior. 14% reported being better off.
Important notes include that this survey was administered in early summer, and obviously things have changed since then. For a more frequent, national perspective, the Ag Economy Barometer runs a monthly survey and produces and index of overall financial conditions. They also ask people about reasons they are feeling they way they do. Concerns listed there reflect much of what I've been hearing in Montana: drought, inflation, interest rates, and supply chain issues.
The full survey, which includes information on what traits wheat and barley producers are feel are most important (hint: drought tolerance was a big one this year) as well as the wheat and barley varieties they planted can be found here. Note that the wheat and barley have separate reports, but you'll find the economic questions in both. And for comparison, you can find last year's blog post summarizing the survey here.
This year, 1821 producers responded to the survey—thank you if you were one of them!